Maturity

Wood lives.
It takes time for wood to develop and to mature.

Every piece of wood is given this time. Thirty types of wood in many different dimensions are permanently stored in our storage.
You can choose up to 20.000m³ of wood from our stock.

Our employees are perfectionists. Even when it comes to drying the wood.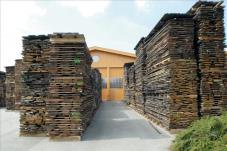 We dry the wood according to the latest expertise in ultra-modern drying chambers and give it enough time for humidification.

Only then is the wood ready to be worked. Step Four on the Way to Wood is thus taken.

With our own drying capacity of 3.500m³ of hardwood we can flexibly handle and promptly load varying amounts of timber.