History

Wood has defined our lives for three generations.

It all began with staves made out of oak.

Today oak is still the most important wood for the Frey-Amon enterprise, which has its main headquarters in the Weinviertel.

Alongside this we run and process 30 types of wood, concentrating on hardwood.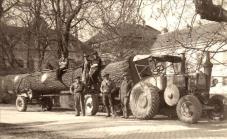 Marianne Frey-Amon has been head of the business since 1977.

Even before the fall of the Iron Curtain she was building up contacts in Poland.
What was difficult in the beginning has now become a very successful working relationship.

In 1991 the built new factory premises with its own train connection.

Over 70.000 m² of storage space, high-tech drying facilities and the sawmill built in 2004 make it possible for us to travel the Way to Wood from the forest right up until the final processing on our own business premises.

Today Frey-Amon is an internationally active wood wholesaler and processing enterprise with its main headquarters in Austria and branches in Poland, the Czech Republic and Lithuania.